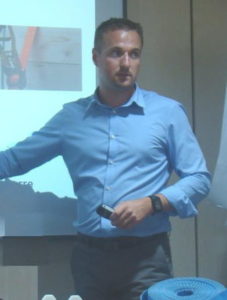 Interview with Arnaud Dupasquier – FCE Stevedoring
Arnaud Dupasquieris the founder of the company FCE Arrimage based in Saint Priest (69) which provides training in stowage for transport: road, sea, rail since 2014. He is also the secretary general of EUMOS (European Association for Safe Logistics) being at the origin of several European standards on securing goods during transport.
CRTL: Can you give us some figures on the claims resulting from stowage defects?
It is very difficult to say, knowing that the last official figures given by the INRS date from 1993. At that time, they said:
10,000 accidents per year due to stowage;
50.000incidents per year due to spillage of goods on the road;
In my opinion, the accident rate is much higher today. What I can add is that today, about 90% of the goods transported by road are not stowed in accordance with the regulations in place (European standards), and that this percentage has unfortunately not decreased since 2010.
Do you have any concrete examples of claims?
Unfortunately, there are too many examples and no sector of activity is spared:
Public works
Chemicals
Hazardous materials (including radioactive materials)
Metallurgy
Etc…
One of the last examples that comes to mind is the fall of a special machine at 750.000,00 €.
The machine was unfortunately out of operation due to its fall in a roundabout.
The consequences were dramatic, because this type of machine could not be rented and a period of 1 year was necessary to replace the deteriorated parts.
Many jobs had to be postponed and the financial consequences went beyond the cost of repairing the machine.
After analysis, we could see that the stowage was really catastrophic. The installation of anti-slip mats and the modification of the chaining technique would have been enough to prevent the accident.
Could you explain the interest of the CTU and EN 12195 standards, as well as briefly present the conditions of their development?
These standards and recommendations serve as a reference for cargo stowing in European transport (EN 12195-1 standard) or in international transport (CTU code).
For information, since 2014, the CTU code and the European standard give very similar sizing methods.
We use these references to assist customers in the sizing of their cargo securing, but also during expertise (insurance or judicial) to verify the compliance of a stowage.
Their development comes from the pure and simple application of physical laws with the addition of safety factors.
By respecting these standards, we prevent the displacement of the transported goods during emergency braking, evasive maneuvers, but also rolling and pitching.
What is the current state of training for shippers and carriers?
Strange as it may seem, shippers are more in demand than carriers for stowage training and advice.
In fact, to this day, 90% of the training provided is for manufacturers.
My hypothesis is that transport companies think that their drivers are competent in lashing thanks to their HGV license or FCO. However, when you look at the program of these training courses, stowage is in fact not present or hardly present.
Finally, if one wanted to know the percentage of companies trained in stowage in France, I think it is extremely low.
My feeling is that less than 5% of drivers and shippers are properly trained in lashing.
What is the current status of expert training?
Transport experts are confronted with stowage problems on a daily basis.
However, only a few of them are competent to check the conformity of a stowage.
We have been building a specific module for this profession for a little over 5 years. To date, we have trained only a dozen experts, including the CRTL firm 5 years ago.
For further information regarding FCE stowage : https://www.fce-arrimage.com/conseil/